Caliburn G PodCaliburn is the upgraded new version. Uwell Caliburn G Pod Mod works with 690 mAh built-in battery and provides 15W output power.
Caliburn G Pod Kit is the upgraded new version of Caliburn. Uwell Caliburn G Pod Mod works with 690 mAh built-in battery and provides 15W output power. Uwell Caliburn G Pod the key over 5 times is locked and unlocked in the same way.That way Caliburn G your electronic cigarette will prevent accidental ignition when you are in your pocket or bag. Uwell Caliburn G cartridges are in 2ml capacity and have the filling design from the top to prevent leakage. Uwell Caliburn G two different users MTL and DTL offers an in-house option.
Uwell Caliburn G Pod
I am delighted to inform UWELL does not have much dealt with its original design.UWELL has made many changes, but like renewing design, it now looks much better quality and has the ability to support two types of shots: tight MTL and loose MTL
Battery life was greatly improved.Caliburn's battery was small and it has affected its performance.UWELL Caliburn G has a significantly greater battery.Like the original, the use of UWELL Caliburn G is extremely simple, which makes it an ideal choice for new steamers.Cartridges will easily slide and hold 2 ml liquid.New Caliburn G cartridges work on a bass-fill system, which is great for less messy.
UWELL Caliburn G is a device activated by pulling, but there is also a ignition button on the device as it is in the previous model.
Uwell Caliburn G Pod Specifications
690mAh Internal Battery
15W Maximum Output
Double Air Flow System
5 Click Locking System
2ml E-liquid Capacity
Removable Coils
Upper Filling Method
0.8Ohm Mesh / 1.0Ohm Coil Compatible
Suitable for High PG E-Class
Caliburn G Pod Mod Kit hafive design Caliburn Gwith a sturdy yet durable design, the pocket can easily fit.Click the ignition button for 5 times, locks and unlocks the device for a safe operation.
Caliburn G Cartridgeprotects the same simplicity with the device with a practical upper filling method, which greatly reduces the possibility of leakage while providing ease of use. Caliburn G Coil attaching and changing is equally easy, two 0.8 Ohm mesh coils are included, and can be supplied separately from 1.0 Ohm coil.For the best performance, we recommend matching both of these coils with 50% and higher PG e-liquids.
Let's be honest, that never had a complex kit of use, a pod kit with replaceable coils, a screen or a pod kit that doesn't require adjustment.
Cartridges have the same crispy upper mouth to fill and there is a small hole to allow air to exit during filling.In the filling hole, there is a silicone port to reduce stone and leaks.Since the compartment is transparent, you can easily see your liquid level.With a click on the main device, the magnet is not used.The original is different from Caliburn/KoKorea cartridges, it is more round-shaped, and it is slightly thicker but it is still comfortable.Liquid level windows are also slightly wider.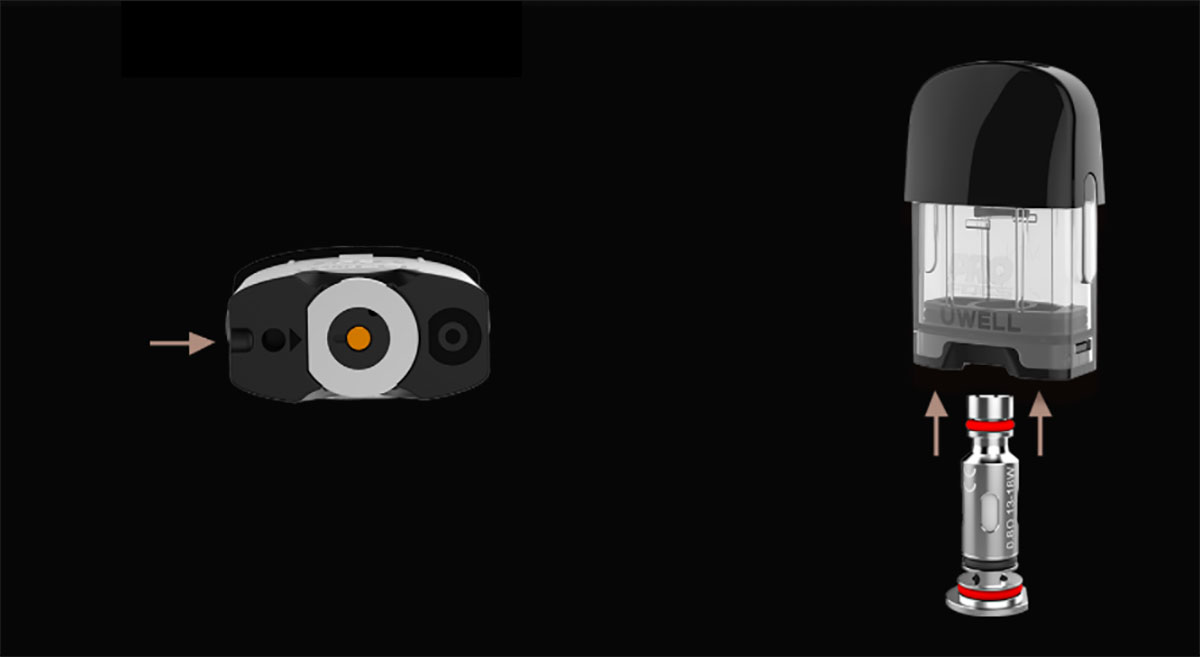 Caliburn G Cartridge and Coils
Caliburn G cartridge has had an upgrade since the last recurring.Now it has replaceable coils that can be easily replaced by a simple pull/ push method.The mouthpiece on the partition is made of a hard plastic in a "closed" design, and it is divided into a compartment with a little pressure when it does not burst any time.It is easy to fill the partition with transparent filling port located on top under removable mouth. Caliburn G Cartridgeit can keep 2 ml of your favorite liquids.
The coils themselves are built with mesh braided inner parts that are activated with a resistance of 0.8 ohm to prevent premature burns and evenly heat dissipation.Although technically sub ohm, we recommend using 50/50 or high PG liquid because the wick ports for fast VG absorption are slightly small.
Battery & Charging
Caliburn G saw an important development from 520 mAh to 690 mAh in battery capacity.This puts Caliburn G into the daily vape category and provides enough power for both work and next evening.If you notice the power of your Caliburn G decreases, you can always use the new USB C Type charger, make your unit filled quickly within about 45 minutes.And with the help of the installed pass technology, you can continue to steam while charging.
There is a three-color small power indicator light at the base of Caliburn G; green, %60power over, blue, %60 from %30 between red, %30means less power.On the back to the back, the red flashing means that the time to charge fast with the USB Type C cable located in the kit comes.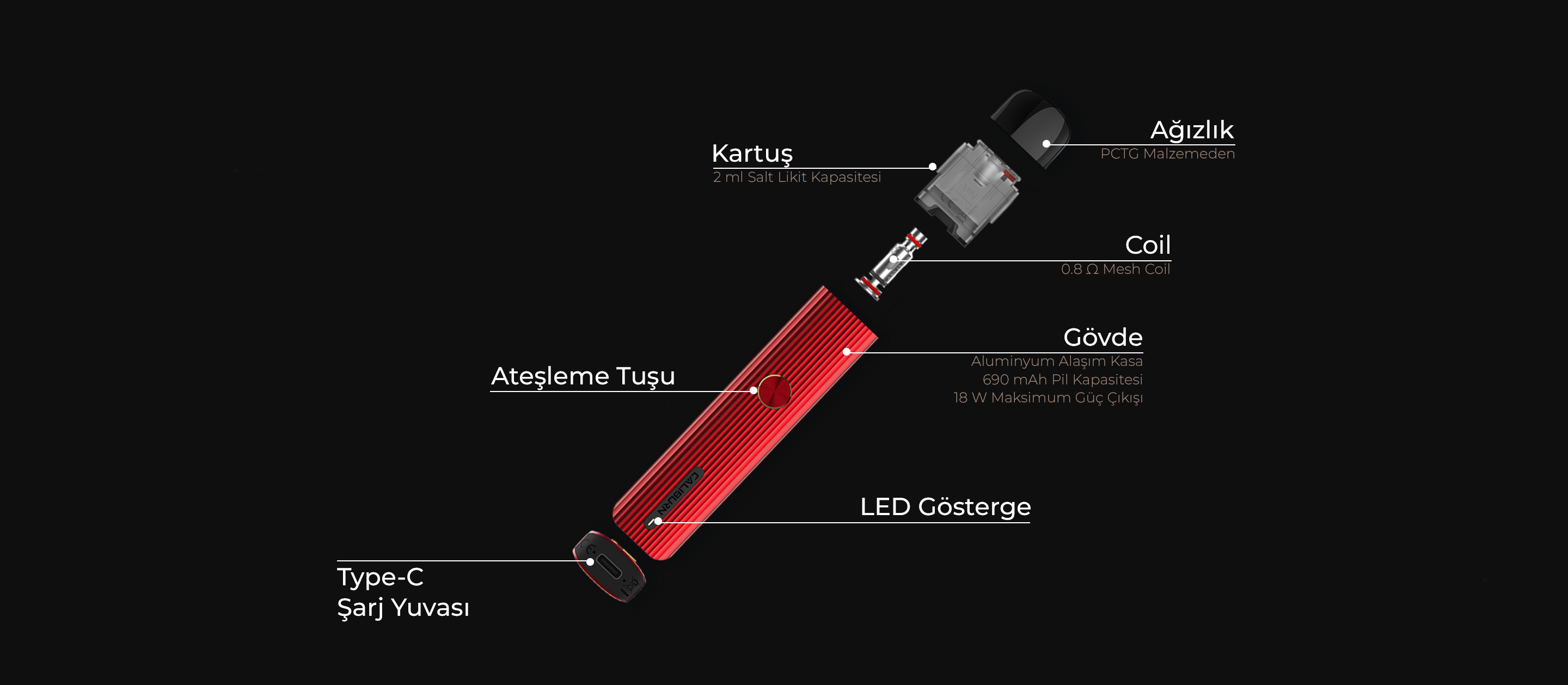 PACKAGE TYPE
1x Pcs Caliburn G Pod
1x Pcs Caliburn G Coil (preinstalled)
1x Pcs Caliburn G Coil
1x Pcs Type-C Charging Cable
1x Pcs User Manual
Data sheet
Battery Capacity

690mAh

Internal Battery

There is

Tank Capacity

2 ml

Charging Cable

There is

Charging Cable Type

USB Type-C

watts

15W

ohms

0.80Ω - 1.0Ω

Coil

There is
Product Reviews / Q&A
Reviews (10)

All reviews (10)
Excellent (10)
Good (0)
Medium (0)
Poor (0)
Terrible (0)

Latest
Oldest
High rating
Low rating
Helpful